When will racing return?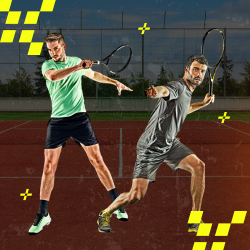 Hello Guys: How are you? I hope everyone is doing well, going through this "surreal madness" in a mild and healthy way, as far as possible. And I was afraid of Ebola, lol here comes a Corona Virus.
We are all asking the same question:
– When will all this pass?
– When will we get back to normal life?
But there is a specific group that asks the same question:
– When are we going to run again?
Brazil is slowly opening up to this issue. In the world, we already have some open registrations, such as the Disney Run which will be held from January 6th to 10th, 2021. Although, I took a look here at my crystal ball, and this race still doesn't have that "green tick" on the side. But will…
Returning to Brazil, in some states we already have parks opened for training, and Dr. Ana Paula Simões – a doctor with a master's degree in orthopedics and traumatology from Santa Casa de São Paulo and a member of the Brazilian Society of Sports Medicine, wrote an article for the website "Eu Atleta", informing the correct protocol, for advisors and athletes, it is very worth reading, click on it and read.
Protocol for training and racing
In the article, I only had doubts about one item: THE MASK, in many articles, I have seen the opinion of several doctors saying they are against the use of masks during the race, due to a problem with gas exchange, but that's for the next post.
And just one more idea that comes from our "Hermanos", in Argentina the practisings were released, as follows: those who have an odd RG final training in the park on odd days and those who have an even final training on even days, something like that.
And do you have any ideas? Share there with us.
And I was forgetting, here in Brazil we already have some races with open registration, but be calm at this time, think about whether it's worth putting your life at risk. Another subject for the next post.
During ninety days of quarantine, I went out only once to training, I felt like I was betraying those people, who couldn't even go out on the sidewalk.
What does a runner do during quarantine?
Hey guys, how are you? Have they gone mad? Of course. We always defend ourselves from bad phases. I know the runner very well, whether a professional athlete or an amateur athlete.
And what do we do during quarantine?
Easy, easy answers:
Stay at home
Any space is space to run. I myself have run 5 to 6 km inside the apartment.
Take care of food, always thinking that everything will pass and we need to get back fit.
And since not everything is bearable, guess what? We watch a lot of movies – But wait, any movies? Not, the preference is racing movies, right? I love running, Lola run… So, I'm not even going to copy the little friends' post, because it's very ugly. You can find the Perfect Race website, and there you will have the suggestion, not of 1 racing film, but of 21 films on the subject.
And let's believe, think positive, pray, help others, take care of ourselves, and take care of others because everything will be well.
Training Barefoot: can you?
Hello people, how was the weekend? Running right? And it doesn't matter if it was in official races or just training, the important thing is don't stop, don't stop!
And speaking of training, I found an interesting article: Training barefoot. I particularly love going barefoot, so it must be great. For now, let's talk about physical exercises, in another post we will talk about running barefoot. No, don't laugh, there are a lot of people running barefoot.
Let's get back to our topic today, "exercising barefoot." The website Minha Vida is the one that made this interesting article, visit and see, you may even find it: you already knew, but it's always good to reread certain articles.
And to finish remember that: on the 21/03rd there's a race: shall we?
Until next time and Happy training everyone!
International Women's Day!
Come on my people that I can't live without.
Given the start of the year 2020, let's start with the "2020 Women's Race". The first big event when it comes to street racing.
This event is being promoted by the Government of the State of São Paulo, with 15 thousand registrations, this will be one of, if not the biggest event promoted for this March 8th.
Check out all the programming:
Schedule
6:00 am – Opening of the Arena
6h20 – UNIMED Rhythm Class
7:00 am – Start 5K (GENERAL and ACD)
7:00 am – UNIMED Rhythm Class
7:30 am – Start 10K (GENERAL and ACD)
8:20 am – UNIMED Rhythm Class
8:50 am – AVON INSTITUTE moment with Daniela Grelin
9:10 am – Lecture SANTANDER – Why does being a woman increase the chances of investing better?
10h – OLLA Lecture – Women's Talk with sexologist Laura Müller
11 am – Awards
12:00 – Brazil Symphonic Jazz Show & Guests: Fafá de Belém; Ana Vitoria; Baby Salvego; Luisa Possi; Leila Pinheiro; Roberta Sá; Elba Ramalho
15:00 – Moment AVON Cancer Breast Institute with actress Sabrina Parlatore and gynecologist, obstetrician, and mastologist, Dr. Rita Dardes
15:30 – Paula Lima Show
17:00 – Claudia Leitte show with the special participation of the Big Band of Jazz Sinfônica Brasil
Sponsor activations
SPACE UNIMED MUDE1HABITO
Massage | Instagram activation
ESPAÇO SANTANDER BEHEALTHY
Woman Lounge | Digital Tattoos | Financial Guidance
AVON INSTITUTE SPACE
Kaleidosphoto | Distribution of guides
ESPAÇO SABESP Interactive totem Rio Pinheiros
KIDY SPACE Game interaction | Product Demo | E-commerce discount distribution
SPACE OLLALounge for rest
NOVA BRASILGifts draw
Secretary activations
Women's health cart
Health Department
The Breast of Woman Program offers mammography exams for women aged between 50 and 69, without the need for a medical request, free of charge through the SUS (Sistema Único de Saúde).​
Health space
Health Department
Vaccination: measles + yellow fever;

​Prevention and testing: tobacco, alcohol, and other drugs;​

Prevention and testing: Syphilis and HIV​

Learn more: Coronavirus, Dengue, and Women's Health
Tourism space
Secretary of Tourism
Photo studio for photos with São Paulo scenery (free)

Promotion of destinations in São Paulo (city of São Paulo, countryside, and coast of São Paulo)
Social protection space for women
Secretary of Social Development
Guidance on social protection services​

Guidance on state and federal social development programs​

Espaço do Brincar​- Guidance on the Bom Prato and Viva Leite programs

​Guidance on the Recomeço program

Guidance on preventing the use of alcohol and other drugs
Well-being space
Secretary of Justice and Citizenship
Facial Hydration

Massage and Postural Assessment​

Nutritionist, Weight and height measurement​

Issuance of the 2nd copy of a birth, marriage, and death certificates
Beauty space
Social Fund Secretary
Beauty School with manicure and makeup courses

​Collection of hair strands for donation (Solidarity in Yarns Program)​

SOS Woman
 Mobile units
Assistance to the Public Defender's Office

Procon service

Assistance to the Civil Police Department
We will humbly give you a treat, but our greatest gift will be you here on the blog, enter the comments, and give us suggestions for topics you would like to see, explained here on the blog. Also, send your photo during the race, we will make a post only with the photos of the runners. Enter our Facebook and Instagram, and let's interact, always.
And remember, March 08 is International Women's Day, it's the day they celebrate, they fill us with treats and flowers, but every day is our day, every day is women's day, men's day, children's day, of every human being. But since they have instituted a day: Happy women's day!